Described as the Reuters of fashion .... in many cases you'll see it and or read it here first
Tuesday, 31 May 2011
So last week I was invited along to the press preview for Oliver Sweeney's Autumn/Winter 2011 collection....
This year Oliver Sweeney celebrates 20 years of making fine shoes and they have selected a few of their favourites from the original 1991 "Walk of Art" collection.
Check out the video tour......
The Fall collection is vast with hiking boots, loafers, slippers and of course apparel.....
The textured oiled suede upper boots such as above with two tone striping on the outer sole, and the double zip on the boots transform the boots from something simple to something striking.....
Simple and understated with trademark kick out sole, their city shoe is an easy choice for the man who wants his style without fuss from his favourite shoemaker.....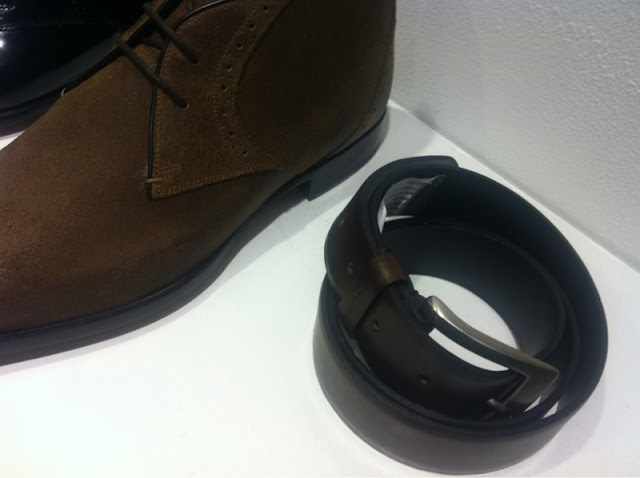 This season Oliver Sweeney have really pushed the boat out, with Eel skin trainers in a range of colourways and Stingray trainers which have already seen the likes of Tinie Tempah pre-ordering. These are my collection winners......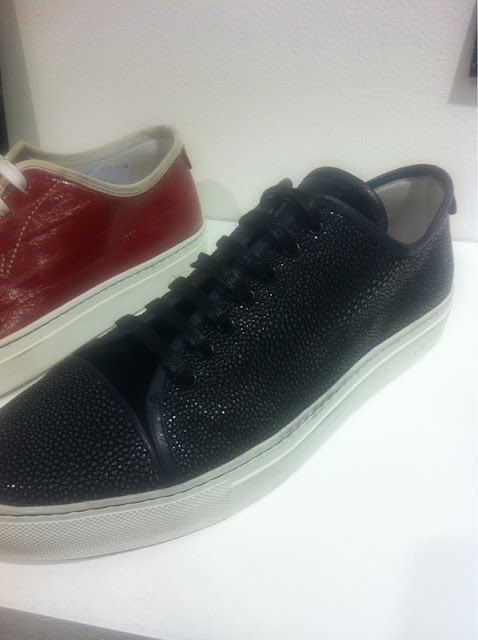 All in all the collection was outstanding and very pleasing to the eye I recommend you check them out especially the Stingray trainers which are custom made and will soon hopefully be in my shoe collection....
10 out of 10
http://www.oliversweeney.com/
Posted by Leroy Dawkins
at 12:50
0 comments


Monday, 30 May 2011
Alexander McQueen: Savage Beauty, published on the occasion of an exhibition organized by the Metropolitan Museum's Costume Institute in New York: preface by exhibition curator Andrew Bolton; contributions by Susannah Frankel and Tim Blanks: photography by Sølve Sundsbø. The book features the most iconic and radical designs of Alexander McQueen's prolific career with his own illuminating commentary, in addition to an interview with Alexander McQueen Creative Director Sarah Burton: features
Available to purchase at
http://www.alexandermcqueen.com/
Posted by Leroy Dawkins
at 23:31
0 comments


Check out the Gucci Sienna tote with horse bit hook, metal chain and tassel.....
http://www.gucci.com/
Posted by Leroy Dawkins
at 21:09
0 comments


BLACK FLORAL FIN DETAIL DRESS
The dress from Alexander McQueen is certainly a SS 11 show stopper.....
Posted by Leroy Dawkins
at 20:36
0 comments


I love this song is by a French singer called Fanny and the song is called Encore une fois.... I love French music and this is a great track but the video is not really saying much .... as always you don't have to understand it to like it



Posted by Leroy Dawkins
at 20:19
0 comments


AS LBD's go (little black dresses), searching around on the internet this is one of my favourites I have come across. From Dolce&Gabbana this lace dress is truly a show stopper and ideal for any formal occasion....
http://www.dolceandgabbana.com/
Posted by Leroy Dawkins
at 19:54
0 comments


Check out July's issue of GQ with an exclusive with Rose Huntingdon-Whitley. She talks about her new film which hits cinemas next month and taking over Megan Fox's role in the Transformers series.
Posted by Leroy Dawkins
at 19:48
0 comments


Ok so for me this is big news hope it is for you too....
In a few days (June) guys will be able to start purchasing the Men's collection from Jimmy Choo.... Register your interest at
http://www.jimmychoo.com/
and for the ladies? well its business as usual!
Posted by Leroy Dawkins
at 16:45
0 comments


Jimmy Choo have a vast selection of nude shoes for the SS 11, below are a few of my favourites.... Stylish and on trend!
Louisa
Vamp
Delta "winner"
Lucia
Check out these and more at
http://www.jimmychoo.com/
Posted by Leroy Dawkins
at 16:26
0 comments


Dolce&Gabbana becomes the "Naming Sponsor" of the Italian boxing team which is present in the WSB international circuit, creating a new identity and image which find in the new "Dolce&Gabbana Milano Thunder" their explanation.
"For the first time a sporting team will carry our name, this is the beginning of a new adventure for us, but also the start of a new responsibility. Boxing is a sport which requires discipline, willpower and courage: values we firmly believe in and that we try to pour into everything we do. With this project we want to emphasize once more the importance sports have for us, both as a source of inspiration for our creativity and as very effective vehicle for healthy, real, down-to-earth values."
Domenico Dolce and Stefano Gabbana
The whole Dolce&Gabbana Milano Thunder team will wear official Dolce&Gabbana uniforms:
their competition uniform will be in white and black, with the logo reprising the colours of the Italian flag, and the name of the athlete embroidered on the shorts and the competition robe. The formal uniform will be composed of a black two-buttoned suit and white shirt
CLEMENTE RUSSO WINS THE INDIVIDUAL TITLE OF THE WBS CHAMPIONSHIP
The Dolce&Gabbana Milano Thunder achieves the highest step of the podium of the World Series of Boxing with the win of Clemente Russo, that just happened in the city of Guiyang (China). The heavy weight champion reaches the qualification for the upcoming Olimpic Games – London 2012. Clemente Russo has fought with the Dolce&Gabbana Milano Thunder since October 2010.
http://www.dolceandgabbana.com/
Today's song is Diary by Alicia keys sucha beautiful song .......



Posted by Leroy Dawkins
at 15:01
0 comments


Today's shoes are from the Fall/Winter 2011 collection for men are are called the Daddy's flat.....
These shoes are currently available in black suede and leopard grosgrain, and feature the classic tasseled loafer design with Christian Louboutin's signature red sole.
http://www.christianlouboutin.com/
Posted by Leroy Dawkins
at 04:53
0 comments


Sunday, 29 May 2011
Posted by Leroy Dawkins
at 20:24
0 comments


Today my lovely assistant Cletus is wearing his new necklace from contemporary jewellery designer Saskia B. I was given two of these, one was done as a giveaway and the other now belongs to Cletus to welcome him as my new assistant.
Saskia B jewellery is available to purchase from Wolf and Badger so check it out!!
http://www.wolfandbadger.com/
Cletus modelling Saskia B Jewellery...
Posted by Leroy Dawkins
at 16:32
0 comments